Johnny Mann, 1928-2014
On June 18, 2014, Grammy Award winning arranger, composer, conductor, entertainer, and recording artist Johnny Mann passed away peacefully at his home in Anderson, South Carolina.
A visitation was held on Friday, June 27 from 6-9 PM at McDougald Funeral Home in Anderson, South Carolina. John's Celebration of Life service was held on Saturday, June 28 at 11:00 AM at St. John's United Methodist Church in Anderson, South Carolina.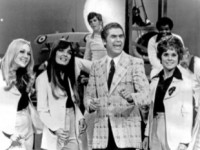 How Johnny Mann came to write the KHJ jingle in Once Upon a Time … in Hollywoo
Check out this wonderful article by LA Times author Vance Durgin that details Johnny Mann's iconic KHJ FM radio jungle used in the award winning movie Once Upon a Time…in Hollywood.